Las Vegas Attractions & Activities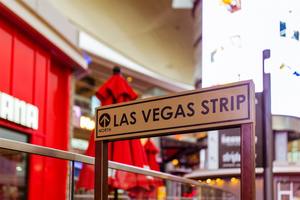 Las Vegas, Nevada is home to world-class entertainment, sensational casinos, extraordinary dining, and a range of interesting and exciting activities that appeal to visitors of every age and interest.
Visitors to Las Vegas can choose from a full menu of attractions, with everything from poker tournaments and Broadway-style musicals to outlet shopping, casino excitement and nightclubs available 24 hours a day.
With so many attractions and fun things to do, Las Vegas delivers a uniquely fun, appealing and stimulating vacation experience for visitors to enjoy.
Things to do in Las Vegas, Nevada
Las Vegas Motor Speedway
- Get a thrill with exciting race day action at this NASCAR and INDYCAR speed track that features up-close fan access to drivers and race cars, unique concessions, live entertainment, and hosts several annual racing events, including the Sprint Cup Series, and the INDYCAR world championships.
Nellis Air Force Base
- This 11,000-acre Air Force base is home to the largest number of air squadrons in the world. Nellis offers combat training and command through on-site operations like the Air Combat Command and the US Air Force Warfare Center and boasts an airfield, training facilities, a shooting range, a solar power plant, and large-scale weapons storage.
North Las Vegas Shooting Ranges
- Las Vegas is home to several paintball, rifle and pistol sheeting ranges, offering everything from target practice ranges and archery targets to paintball courses, gun sales and service. 11357 North Decatur Boulevard Las Vegas, NV 89131-2860
Las Vegas Premium Outlets
- Save on brand name and designer clothing, home fashions and more at this outlet center that features more than 60 stores, including Ann Taylor, Burberry, Calvin Klein, Coach, Kenneth Cole, Polo Ralph Lauren all just 5 minutes from the Las Vegas Strip.
Big League Dreams
- This unique sports facility features scaled-down versions of America's famous ballparks, including Fenway Park, Wrigley Field and Yankee Stadium, and offers a unique sporting complex for baseball, softball, soccer, batting cages, a playground, and a restaurant.
Creech Air Force Base
- Formerly known as Indian Springs Air Force Auxiliary Field, Creech Air Force Base is home to the 432d Wing and 432d Air Expeditionary Wing hunters, as well as air and combat training facilities, flight training and remote aircraft training.
MOB Museums
- This fun, interactive museum explains the history of organized crime and law enforcement in Las Vegas through engaging exhibits, interactive displays, films, artefacts, and historical objects.
Manhiem Auto Auction
- Make a bid or simply watch as a range of cars, from classic to modern, are auctioned off to the highest bidder at this premier auto auction house.
Richie Brother Auctioneers
- This auction house offers both live and online auctions for a major farm, agricultural and industrial heavy equipment and features a range of auctions for new and used equipment throughout the year.
Valley of Fire State Park
- Established in 1935, the Valley of Fire is Nevada's oldest and largest state park. The park's name comes from the area's red sandstone formations and ancient petrified forests. Visitors will enjoy camping, hiking and viewing the park's 3,000-year-old Indian Petroglyphs.
Cashman Center
- Located adjacent to Cashman Field, this state-of-the-art, multi-use facility offers more than 90,000 square feet of exhibit space, plus meeting facilities, a 1,900-seat theatre, and a restaurant.
College of Southern Nevada
(CSN) - This community college is well known for its dental hygiene and nursing programs and offers a full schedule of undergraduate classes to more than 39,000 students at its three main campuses in Las Vegas and several satellite centres throughout the region.
University of Nevada Las Vegas
- Established in 1957, this four-year university offers more than 200 undergraduate programs, as well as masters and doctoral degree programs. The university is best known for its architecture, dental, law, and engineering programs, and boats a championship athletics program.
Mt. Charleston
- Located in the Spring Mountains, Mt. Charleston is Nevada's third highest peak and offers visitors opportunities for hiking, biking, picnicking, camping, climbing, snowplay, and nature tours and also offers a lodge and restaurant.
Las Vegas Zoo
- Spend the day at this zoo and botanical garden that offers a native plant, bamboo and cycad collection, endangered cats, flamingoes, wallabies, reptiles, monkeys, birds, and poisonous snakes, and a small gem exhibit and gift shop. Open daily, 9am-5pm.
Las Vegas 51s Baseball
- The Triple-A 51s baseball club - affiliate team of the Toronto Blue Jays - have been playing baseball at Las Vegas' Cashman Field since 1983. The popular Las Vegas 51s have clinched several division titles and won two Pacific Coast League championships.
Las Vegas Convention Center
- As one of the world's largest convention and event facilities in the world, the Las Vegas Convention Center offers over three million square feet of exhibition and meeting space, playing host to a multitude of major conventions, conferences, trade shows, and industry events each year.
Red Rock Canyon
- Situated just 15 miles from Las Vegas, in the heart of the Mojave Desert, this unique park offers desert beauty, majestic red sandstone cliffs and an abundance of wildlife. The 13-mile scenic loop drive rewards visitors with views of the red rock formations and local wildlife, including burros, rabbits, bighorn sheep, hawks, and more.
Fremont Street Experience
- With fantastic light shows, live music, and laser events all projected on a giant canopy covering the street, this unique downtown Las Vegas pedestrian mall offers nightly shows from dusk until midnight.
Hoover Dam
- Spanning the Colorado River, 30 miles from Las Vegas, the dramatic Hoover Dam is an incredible example of a classic concrete arch-gravity dam. This National Historic Landmark is open daily for tours, except major holidays.
Lake Mead Recreation Area
- This popular recreation area offers swimming, waterskiing, boating, hiking, fishing, picnicking, kayaking, and general lakeside fun for visitors to enjoy 24-hours per day, year-round. Several beaches and other areas are day-use only and are marked with signs.
Las Vegas Strip
- Get into the game at Las Vegas' famous casinos offering everything from sports betting and slots to poker and roulette. The Las Vegas is home to more than 30 hotel casinos offering state-of-the-art gaming options and smaller casinos with
slots and table games
just waiting for gamers to place a bet.
Grand Canyon National Park
- Situated four hours from Las Vegas, this spectacular national monument was carved by the Colorado River over a millennium. Visitors can enjoy vista viewpoints, hiking trails, an authentic Indian reservation and a visitor centre offering information and guided tours.
Las Vegas Golf Courses
- Home to more than 55 golf courses, Las Vegas offers golfers of all skill levels a challenge on some of the country's premium courses, many designed by top golf pro names including Jack Nicklaus, Raymond Floyd and Arnold Palmer.